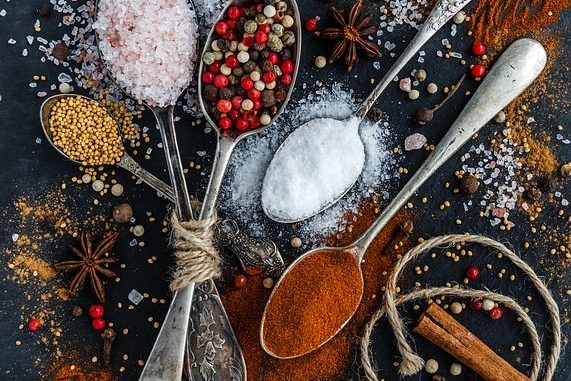 What Spices help Lose Belly Fat?
Spices for weight loss management has been gaining popularity among people who want to lose excess pounds without the use of prescription medications.  The spice trade was first developed by the Middle East and South Asia in the early 2000 BCE with black pepper and cinnamon and in East Asia specializing in pepper and herbs.
Spices were the most demanded expensive product available in Europe during the middle ages. Used for flavoring, medieval medicine practices the main theory of humorism ancient uses a system of natural medicine detailing the workings and makeup of the human body.  Spices are still used today for a verity of reasons including cooking, medicinal and weight loss purposes. (1.)
The humorist approach is individualized for each specific person who has their own humoral compensation who wants to use a holistic medicine.  The concept of using spices and herbs for good health has emphasized a link between physical and mental wellbeing.  Inda contributes 75% of the world's spice production.
A spice by definition is a fruit, seed, bark, or other plant used primarily for preserving food, flavorings, or coloring.  Spices are often used in supplements, medicine, perfume, cosmetics, religious rituals or vegetable.  Spices have prominent characteristics compared to herbs which are the stems, leaves, and flowers of the plant that are used for garnishings and flavorings.
Several spices have antimicrobial properties used to fight bacteria and fungi.  This explains why spices are widely used in warmer climates to inhibit or reduce infectious disease.  Spices to lose weight fast have been scientifically proven to boost metabolism, aid in digestion and curb cravings.  Find strategies for combating weight gain hidden causes of obesity.
Cinnamon Benefits for Fighting Weight Gain
Cinnamon is a spice derived from the inner bark of specific tree species from the genus Cinnamomum.  Cinnamon is used in a verity of cuisines in savory or sweet recipes as a condiment flavoring additive and is used widely as an aromatic.  Some studies have found conclusive evidence that consuming a particular type of cinnamon cassia may lower blood sugar levels in individuals with diabetes helping to reduce body weight.
Researched published titled Cinnamon Improves Glucose and Lipids in people with Type 2 Diabetes, in 2003 in the American Diabetes Association.  The objective of the study was to determine if consuming cinnamon actually improved total blood cholesterol HDL, glucose, triglyceride levels in individuals with type 2 diabetes.  Studies indicate that the addition of 2,3, or 6 grams of cinnamon in your diet led to signifiest decrease in serum glucose levels. (1) 
Are you combating stress response feelings of pressure?  Cinnamon has amazing health benefits for relaxation, reducing high blood sugar levels and curbing your appetite naturally and is known to have antioxidant properties.
Spices for weight loss are a great way to stabilize blood sugar levels while reducing appetite.  Try adding 1/2 teaspoon of cinnamon to your coffee grounds to boost your intake of this delicious spice. Boost your sluggish metabolism increase performance to burn more fat.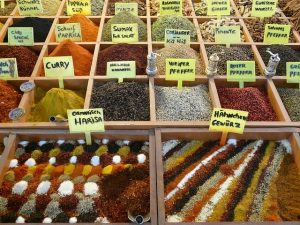 Spice Market
Spices For Weight Loss Tips
Add Spices to favorite recipes for additional flavor and nutritional benefit
Check with your doctor before adding spices or herbs to your diet if you are taking prescription medications
Use spices in moderation
Use spices for weight loss
Add a pinch of spice to tea or coffee to create your own custom flavors
When cooking with spices gently heat desired spice mix.  Toasting spices releases oils intensifying aroma and flavor
Use a coffee grinder specifically designated for grinding seeds into powder form for freshly ground spices.
Store dried spices and herbs in airtight glass containers stored in a dark cupboard away from direct light.
When using spice or herb supplements follow instructions on the package for correct dosage.
Garlic For Posible Weight Loss
Garlic also referred to Allium Staivum as part of the onion family and other close relatives leaks, shallots, chives. Garlic is a broad spectrum therapeutic food found to have beneficial properties used for the anti-viral activity, anti-fungal, antibiotic and help to control weight.
The use of garlic is gaining more popularity for fighting infections of all kinds including ears, nose, and throat both internally and externally.  When 100 grams of garlic is expressed it contains key nutrients 20% or more of the DV including dietary minerals phosphorus, manganese and vitamins C and B6.
Garlic has measurable amounts of germanium a natural chemical element found in trace amounts are used for wound healing, increase endurance and has high anti-oxidant properties. Some individuals use garlic to reduce cholesterol, treat cancer, lose weight and other conditions.
Use garlic in your favorite recipes or purchase garlic supplements found online or local retail store near you.
Ginger Therapeutic Properties
Ginger a spicy herb both aromatic and flavorful packed with beneficial health improvements.  Ginger is a flowering plant rhizome roots is widely used as a spice for cooking, and folk medicine.  There is evidence that consuming ginger can help elevate nausea or nausea related to the treatment of chemotherapy and vomiting.
In 2014 the production of raw ginger reached global  2.2 million tons were produced in India and accounted for 30% of the world total creation followed by China at 19%, Nepal 13%, Indonesia 12% and Thailand at 7% production rate.
Using spices for weight loss can be achieved by adding ginger to your daily diet to reap the full benefit from this amazing root.  Ginger therapeutic properties include aiding in digestion helping you lose weight as well as preventing disease internally fighting infections of all kinds, combating headache, hypertension and other health problems. (2.)
If consumed in reasonable quantities ginger is reasonably safe to use and few negative side effects.  It is on the FDA's generally safe to use list although it does have negative side effect interactions for those who are taking some medications including Warfarin, cardiovascular drugs, Nifedipine and anticoagulant drugs.  Ask your doctor if ginger is right for you before adding this spice to your diet.
Ginger can be used freshly ground or in powder form to be used in recipes, pickled, tea or other beverages for added health benefits.  Studies indicated consuming ginger in your diet has been proven to be a fantastic natural appetite suppressant helping you use spices to lose weight fast.
Cumin For Weight Loss
Cumin is a flowering plant Cuminum Cyminum in the family of Apiaceae cultivated in the regions of South Asia and the east Mediterranean.  It is the seeds contained within the fruit that is dried then used whole or ground form for medicinal purposes and cuisine.  Cumin powder for weight loss has been used for decades due to its ability to help reduce cholesterol levels.
Just one teaspoon of cumin can boost weight loss by 50% or more depending on your individual metabolism.  In 100 gram amount of cumin seeds are nutritionally rich providing daily amounts of dietary fiber, protein, and monounsaturated fat.  High in B vitamins, E vitamins essential minerals, iron are substantial levels found in this delicious spice.
Black cumin seeds contain high levels of phytosterols plant fats similar to cholesterol known to inhibit the absorption of LDL cholesterol in the body helping you to lose weight.   Use spices for weight loss adding cumin to your favorite dishes found to be both fragrant and delicious helping you get more foods containing high amounts of natural phytosterols. Use spices for weight loss to facilitate the process of eliminating fat from the body while enhancing good health.
Spices For Weight Loss List
Ginseng
Tumeric
Mustard
Fennel
Cayenne Pepper
Garlick
Cumin
Black pepper
Cinnamon
Ginseng Rebuilds Endurance
Ginseng is a slow-growing perennial plant with fibrous roots related to genu Panax of the family Araliaceae commonly used in Chinese herbal medicine.  Ginseng tea has been shown to promote weight loss.  It increases the metabolism the process the body uses to convert food into energy helping you burn more fat.  Including herbs t
Ginseng is is the most effective herbal treatment used in traditional medicine for centuries for increasing energy, relieving symptoms of insulin resistance, diabetes, and menopause.
Ginseng has a good safety profile as episodes of adverse effects are low when taken in the correct proportion. (4.)
When ginseng is used chronically there may be concerns about potentially harmful side effects such as digestive issues, headache or insomnia.   Ginseng may interfere with some prescription medications such as blood thinner warfarin, phenelzine, imatinib.  Check with your doctor before using any spices or herbal treatments as they may interact with your medications.
Ginseng has measurable amounts of germanium helping to provides needed energy to the entire body system, promoting regeneration to the needs to build endurance fighting off stress and fatigue.  Ginseng is particularly useful as a stimulant for memory and brain function and improves good circulation.
Ginseng is another valuable herb that has been used for centuries famous for its weight loss benefits.
Cayenne Pepper Burn The Fat
Cayenne pepper is a type of Capsicum Annuum usually considered ideally hot chili pepper used in cuisine to spice up dishes.  Most cultivated verities are grown in warmer climates including tropical areas.  New evidence suggests consuming cayenne peppers helps the body burn more calories by increasing your metabolism.
Spices for weight loss can be added to your favorite dish, soup or stew intensifying flavor while kick-starting your diet program
When eating spicy food your body temperature rises resulting in weight loss while you're taking the cayenne pepper supplement or getting it from a dietary source.  The spicy and hot taste of cayenne pepper comes from the compounds capsaicin found in a verity of hot peppers is now known to boost calorie burn while suppressing the appetite.
Fennel Aids in Digestion
Fennel also referred to as Foeniculum Vulgare is a highly aromatic spice indigenous to the shores of the Mediterranean now grows around the world in different areas especially in dry soils around river banks and near the sea coast.  100-gram portation of fennel seeds provides an excellent source of nutrients more than 19% of the daily value DV of B vitamins, fiber, protein, minerals including manganese, magnesium, iron, calcium, measurable amounts exceeding 100% DV allowances.
Bust belly bloat using spice for weight loss taking one teaspoon of fennel seeds after each meal to aid in digestion.  Fennel seeds are 15% fat, 52% carbohydrates, 16% protein, 9% water and 40% dietary fiber.  Fiber naturally reduces the amount of cholesterol in the blood it decreases the risk of cardiovascular disease.
Add fennel to your favorite dish or tea for added health benefit.  Use these spices for weight loss in cooking or supplement form.
If you like this post and want to learn more visit Weight Loss Diet P lans.  There you will find tips and detailed information on fitness, diets and good health.  tour the whole website and be sure to sign up for your free sample of Garcinia weight loss supplement while supplies last.  Leave me a comment and be sure to share this post with friends.
Spice Resources
www.spicely.com
www.organicspices.com
www.spicyorganic.com  Find great recipe ideas using herbs and spices
Related Post
10 Proven Tips How To Lose Belly Fat
Cheers
Patricia Lynn
Images Courtesy of Hans,  Daria Yakovleva at Pixbay.com