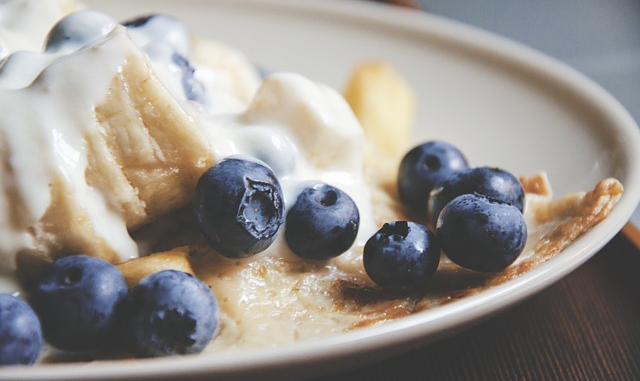 What Is Your Breakfast Routine?
How do you start your day?  Skip breakfast completely or maybe drink coffee?  Eat something with little nutritional value like a sugary protein bar or milk shake? I dedicated this article to inspiring healthy breakfast ideas that you and your family will enjoy.  Natural organic ingredients are used to create delicious low-calorie meals in just minutes with easy to follow diet recipes.  Start your day off with a high protein breakfast that will rev up your metabolism and burn fat throughout the day.  Eating a good meal first thing in the morning will help stabilize your hunger and keep you feeling satisfied and less likely to overeat or crave junk food.
Are you trying to eat a healthy diet and lose weight?  Skipping breakfast in hopes to save calories can be a huge mistake.  Eating a good breakfast packed with protein and essential nutrients can boost your energy level and kickstart your metabolism to burn more calories throughout the day.  Check out these popular healthy Diet breakfast ideas.  These  diet recipes use natural organic, high protein ingredients combined with monounsaturated fats that will help you lose weight with delicious healthy breakfast recipes.
Banana Blueberry Burrito
This quick pick Banana Blueberry Burrito is a fast and easy recipe that can be made in the microwave and ready to enjoy
Time 1 minute/ Prep 1 Minute/ Cook 30 Sec/ Serves 1
Ingredients
1 low calorie whole wheat burrito wrap
2 Tablespoons of almond butter or 2 tablespoons of low fat peanut butter
2 tablespoons of your favorite low calorie fruit spread jelly or jam (strawberry, peach, raspberry, apple)
1 tablespoon of shredded sugar free coconut (Optional)
½ Medium Banana
Instructions
Lay the burrito flat on a plate
Spread the desired almond butter or peanut butter on one side of the burrito
Spread the jelly or jam on top of the almond butter or peanut butter
Slice the banana and lay a single layer of banana on top of the jelly or jam
Sprinkle the coconut on top of the banana
Roll the burrito and wrap in a paper towel and place in the microwave and cook on high for 35 seconds
Topping
Dollop two tablespoons of low calorie vanilla yogurt and top with blueberries.
Make your own combinations by using different fruits in season.
This breakfast is a low calorie dish that is sure to please the whole family.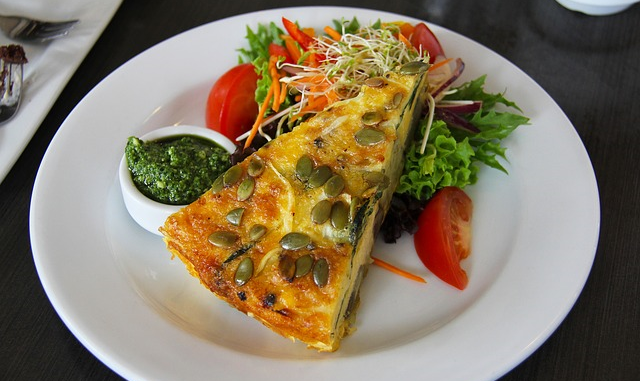 Mushroom & Broccoli Frittata
This easy to make diet recipe is perfect for serving at brunch while entertaining or to eat is a primary breakfast all week-long.  Make one frittata and cut into individual servings and refrigerate portions for later in the week.  This recipe can be modified to use the ingredients you have on hand or enjoy the most.  Add left of pieces of meat and vegetables to give each frittata a unique flavor.
Total Time 15 minutes/Prep Time 5 Minutes/ Cook Time 8 Minutes/ Servings 6-8
Ingredients
2 Tablespoon extra virgin olive oil
6 ounces of cooked meat of choice ( salmon, turkey, chicken, soy meat)
2 cups of sliced mushrooms
1 diced onion
2 cups of cooked broccoli or  1 to 6 ounces spinach, Leftover vegetables work well
1 Pinch of salt and freshly ground black pepper to taste
2 cloves of fresh garlic finely minced
8 eggs
¼ cup parmesan cheese ( Optional)
2 tablespoons of low fat milk or soy mlik.
1/4 cup toasted pumpkin seeds (optional)
Instructions
 Preheat the oven to 450 degrees.
Whisk and combine eggs, salt and pepper, in one large bowl. Put aside.
Preheat a cast iron pan on medium heat add the oil and sauté the mushrooms and onion 5-6 minutes add the minced garlic, cooked meat, broccoli or vegetables of choice and gently heat through 1-2 minutes. Be careful not to burn the garlic.
Add the vegetable and meat mixture to the eggs in one large bowl and combine.
Add 1 tablespoon of oil in the non stick pan and heat on medium heat. Add the mixture back into the heated cast iron pan to cook the egg mixture gently swirling the eggs around the pan to coat evenly.  Use a rubber spatula to loosen the eggs from the side of the pan.  Cook the eggs on medium heat 5-6 minutes covered or until set.  Once the mixture is almost cooked through.
Continue the cooking process by placing the frittata in a 450 degree  preheated oven for 8- 10 minutes to finish the cooking process.  The frittata should puff up and be cooked through.
Cool the frittata for 5 minutes before serving.
Serve
Serve this dish with a side salad and pesto and sprinkle with toasted pumpkin seeds.  Enjoy!
This is a very simple recipe that can be customized to your own personal taste and is high in protein and vitamins to start your day.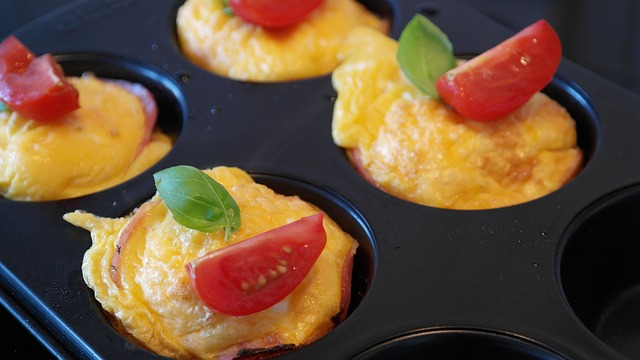 Super Easy Egg Muffins
This particular recipe is loaded with protein and very simple to make for breakfast or make extra portions and save the remainder for the rest of the week.  Try different combinations to create different flavor combinations using seasoning, vegetables and leftover meat  be can add for additional protein to these egg muffins.
Total Time 35 Minutes/ Prep Time 10/ Cook Time 25 Minutes/ Serves 12
½ pound of meat of your choice
½ cup onion chopped
½ cup green pepper chopped
½ tsp sea salt
½ tsp freshly ground pepper
Optional ingredients:  Added leftover cook vegetables can totally change the taste of this recipe while adding fiber and nutrients to these delicious egg muffins
1 cup diced cook carrot (Optional)
1 cup cooked broccoli (optional)
1 cup diced mushrooms (Optional)
1 cup cooked spinach (optional)
Coconut oil or butter to grease the muffin tins or use non- stick silicone muffin tins.
Instructions
Preheat over to 350 degrees F
Cook your meat if necessary it is just as easy to use leftover meat for this recipe.
In a large bowl add your ingredients and mix well
Spoon the egg mixture into the greased muffin tins or
Spoon the egg mixture into the silicone muffin cups and then place the silicone cups in a muffin tin for added support when baking.
Bake for 20-25 minutes until done.  Check doneness by inserting a knife or fork in the center of the muffin.  When the fork or knife comes out clean the muffin is done.
1/3 cup of egg mixture should be spooned into a regular sized muffin tin and yield 12 servings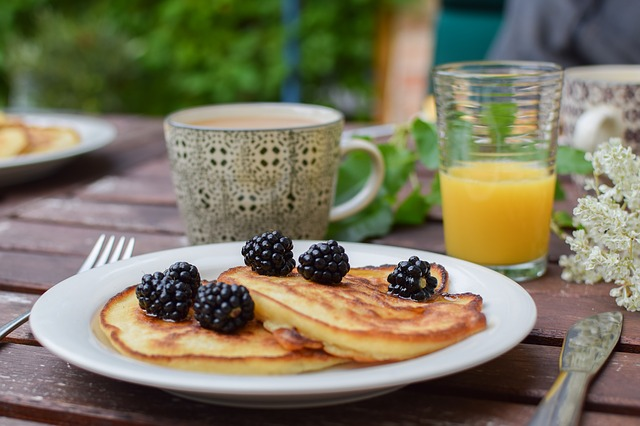 Healthy Protein Pumpkin Pancakes with Sugar free Maple Syrup
Normally pancakes are made with flour, sugar or a boxed mix and are very high in calories.  This healthy protein pumpkin pancake recipes totally changed the traditional ingredients in exchange for healthy substitutes.  Try this delicious diet recipe and get the fix you are looking for without the guilt.
Total Prep Time 10 minutes/ Serves 2 Cooks in 10 minutes /Paleo Recipe
Start your day off with healthy protein pumpkin pancakes.  Perfect for breakfast or snack
Ingredients
2 pastured eggs
¼ cup coconut flour
¾ cup almond flour
½ teaspoon cinnamon
¼ teaspoon baking powder
¼ teaspoon salt
½ pure pumpkin puree (if you use pumpkin pie filling leave out the spices below)
¼ teaspoon pumpkin pie spice
½ teaspoon apple cider vinegar
1 tablespoon melted coconut oil
¼ cup almond milk (add to the batter as need for desired consistency)
Instructions
In one blow Whisk together all the dried ingredients
In one bowl mix all the wet ingredients together
Slowly combine all the dry ingredients with the wet ingredients mix well. Adding almond milk as needed.
Heat a cast iron pan on medium heat and add coconut oil, tallow or butter to prevent the pancakes from sticking.
When the pan is hot, spoon in the batter and swirl until the pancake is 1/3 inch thick.
When the sides of the pancake start to brown it's time to flip the pancake and cook the other side. (This pancake will not bubble like the traditional pancakes)
Stack your pancakes and serve with sugar free maple syrup, honey, pure maple syrup, rice syrup, sprinkle fresh blueberries or strawberries or sprinkle with cinnamon to taste. Enjoy this healthy protein Pumpkin Pancake recipe!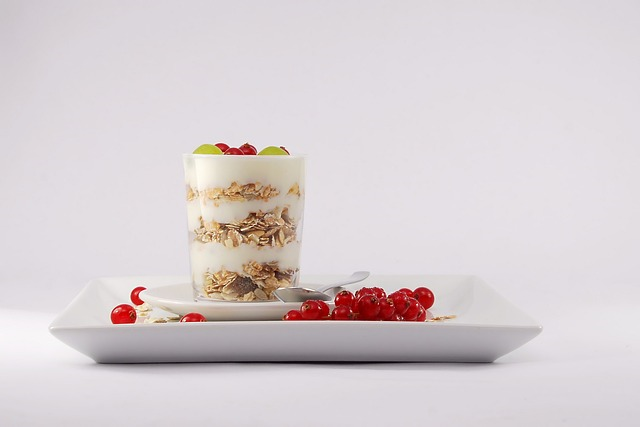 Healthy Granola Parfait
Store bought granola has way too much sugar and questionable ingredients.  If you love to eat healthy granola you will have to try this recipe and make your own.  Add this to your yogurt or eat in plain.  Use a variation of ingredients to make different flavors for your own personal taste. Eat for breakfast or snack.
Total Time 20 -25 Minutes/ Prep Time 5 Minutes/ Servings 4/ Paleo Recipe
Ingredients
½ cup coconut oil
1.5 cups almond flour
¼ cup raw honey
2 teaspoon ground cinnamon
2 teaspoon spoon vanilla extract
1 cup unsweetened dried coconut or other dried fruit of your choice ( raisins, chopped figs, chopped dried pairs, chopped dried prunes, dried chopped apples, died chopped pineapple) Totally customize your granola with the dried fruits you enjoy the most. 1 cup is recommended for this recipe.
1 cup of mixed nuts of your choice (almonds, walnuts, pistachios, cashews, Brazil nuts,)
1 cup mixed seeds of your choice (pumpkin seeds, flax seeds, chia seeds, sesame seeds, sunflower seeds)
Note:  Some grocery stores sell nut and seed in bulk and are more affordable when purchased.
Instructions
Preheat the oven to 275 degrees
Mix the first 6 ingredients in a large mixing bowl (Leave out the dried fruit at this stage)
Spread the mixture evenly on a cookie sheet lined with parchment paper or a silicone mat
Bake for 20 to 25 minutes in a 275 degree oven mixing half way through
After the mixture has baked let cool and ten add your dried fruit of choice.  Your home made granola is ready to eat.  Perfect for breakfast or snacks anytime.
Instructions for Healthy Granola Parfait
Choose a clear glass or cup
Each ingredient will be added in layers,  No exact measurements are necessary.  Just use your judgment
1 inch of yogurt. Add a low fat yogurt of your choice ( plain, vanilla, strawberry, banana, blueberry
1 inch of granola
1 teaspoon of your favorite sugar free jam or jelly ( strawberry, peach, apple, blueberry) spread in a layer
1 inch of yogurt
1 inch of granola
1 inch of yogurt
You should have 6 layers.
Top with a dollop of jelly or jam of your choice and garnish with a few grapes, strawberries, blueberries, banana, or slices of peach.  Use fruits that are in season and make combinations that you will enjoy.
This recipe is great for breakfast or as a low calorie desert that can be served at any holiday festivity.  Try to wow you friends by makinga large Granola Parfait in a large glass container adding layers of yougurt, jam and granola.  Cill untill served.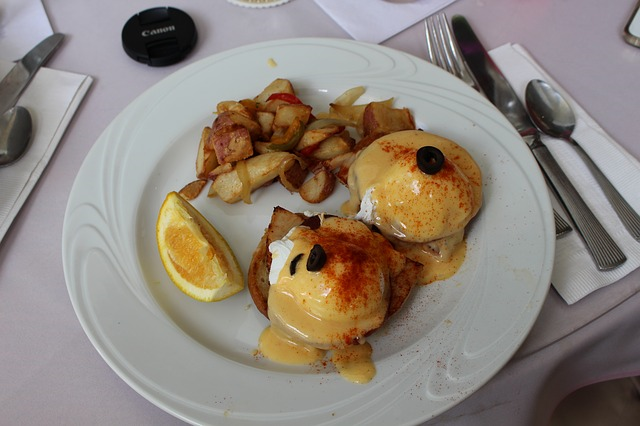 Low Fat Eggs Benedict
This is a great low-calorie Eggs Benedict with low-calorie toast on slice of soy meat.  This protein packed breakfast is easy to make any time of the week.
Total Time 10 Minutes/ Prep Time 10 Minutes/ Cooks 8 Minutes/ Serves 1-2/ Paleo Recipe
Instructions
On top of the stove place a small frying pan
Fill the frying pan with 1 inch of water
Add 2 teaspoons of vinegar (this will help keep the egg together in the cooking process and add flavor)
Bring the water to a low simmer
Add two eggs to the water in the center of the pan (do not stir) the eggs should be slightly submerged in the water for cooking.
Cook the eggs for 3 to 4 minutes.
Gently flip the eggs without breaking them and cook for another 3 to 4 minutes until done.
When the eggs have completely finished cooking removes the eggs from the water and place the eggs on a clean paper towel.
Add salt and pepper to taste.
Sauce
Ingredients
While the meat and eggs are cooking start the sauce in another pan
Ingredients
1 egg yolk
1 Tablespoon butter
2 Tablespoon lemon juice
1 teaspoon turmeric
1 pinch of salt
Instructions for the sauce
Fill one pan with 1 inch of water and bring to a boil
Make a double broiler by placing a glass or aluminum bowl on top of the pan allowing the bowl to heat up
Add the 1 tablespoon of butter to the bowl and melt
Add the remaining ingredients to the melted butter and whisk until done.  You can tell when the sauce is finished cooking by inserting a wooden spoon in the sauce and wiping you finger on back of the spoon.  If the sauce stays in place it should be done. This mixture should thicken without scrambling the egg.
Assembly
Place your cooked salmon on a dish
Place your eggs on top of the salmon
Drizzle the eggs with the sauce. Season to taste.  This is a terrific breakfast for any time of the week.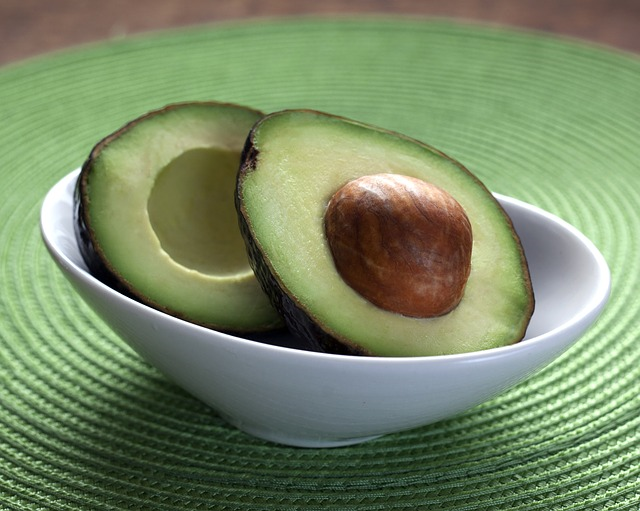 Easy Baked Avocado and Egg
This is a delicious diet recipe and very simple to make and is a very satisfying healthy breakfast recipe.
Total Time 23 Minutes /Prep Time 5 Minutes / Cook Time 18 Minutes / Serves 2/ Paleo Recipe
Ingredients
1 Organic Avocado cut in half with the pit removed
2 Eggs
Salt and pepper to taste
Instructions
Preheat oven to 450 degrees
Flip the avocado flesh side down and cut a slice off the skin so the avocado will stay in place on a small pan when cooking.
Flip the avocado flesh side up and pit removed and place on a cookie sheet lined with parchment paper
Crack one egg into the center of the avocado
Add a pinch of salt and pepper to taste
Bake in a 450 degree oven for 18 -20 minutes until the egg is set.
Eat with a spoon Enjoy!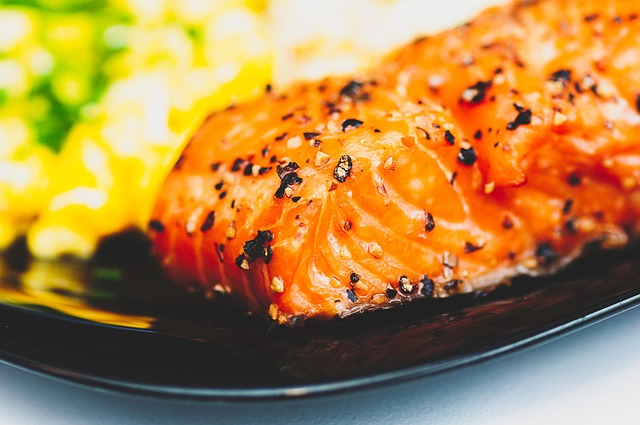 Orange Glazed Salmon With Cracked Pepper & Garlic
Salmon is one of the best fish to eat at any meal aseptically for breakfast or brunch.  Try this timeless recipe.
Total Time 20 minutes/ Prep Time 5 Minutes/ Serves 2/  Patricia Lynn Recipe
Ingredients
2 pieces of 4 to 6 ounce slices of fresh Salmon
½ cup orange juice
½ cup apple juice This adds natural sweetness to the glaze without using sugar
2 cloves of minced garlic
1 pinch of salt
1 dash of freshly ground pepper
Instructions
Place the oven rack in the center of the oven.  Turn the oven on to broil setting
Place a sauce pan on medium heat and add 1 tablespoon of olive oil.
Add the garlic and sauté for 1-2 min until the garlic is softened.
Add the liquid ingredients and bring to a slow simmer and reduce the liquid slightly 5 minutes. This will concentrate the flavors.
Put the salmon on a baking sheet skin side down in a single row.
Salt and pepper the fish
Liberally Brush the salmon with the glaze
Place the salmon into the pre heated oven and bake for 20 minutes or until desired doneness.
Serve while hot Enjoy!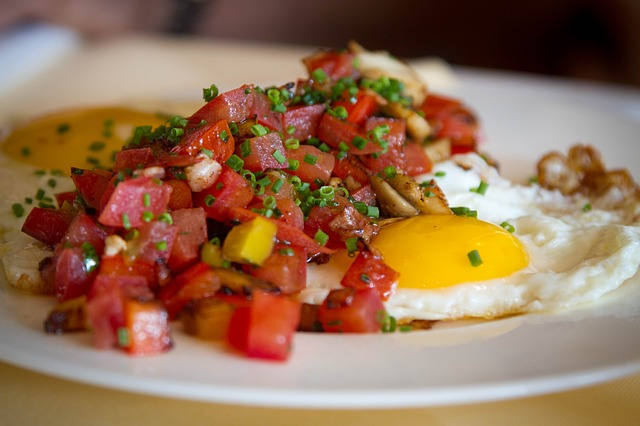 Fried Eggs With Tomato Chutney & Chives
Using the right ingredients while cooking with diet recipes can cut calories and great flavor to any dish. This is an all time favorite healthy breakfast recipe.
Total Time 10 Minutes/ Prep Time 5 Minutes/ Serves 1-2/ Patricia Lynn Recipe
Ingredients
2 Eggs
1 can chopped tomato (flavored verities are available)
1/2 onion diced
½ green peppers
1 pinch of salt
1 dash of freshly ground pepper
5 sprigs of chives to garnish
Instructions
Heat a nonstick frying pan over low heat
Add 1 teaspoon of olive oil
Sauté the onion and pepper on medium heat 2-3 minutes
Add the diced tomato to heat through 1-2 minutes
Remove from the heat and place the tomato chutney in a bowl
In the same frying pan spray the pan with olive oil spray (low in calories) and heat the pan to medium heat.
Crack two eggs into the preheated frying pan and cook your eggs for 5 minutes until the eggs have reached the desired doneness.
Serve the eggs sunny side up.  Add the chutney on top of the eggs and garnish with chives. Enjoy!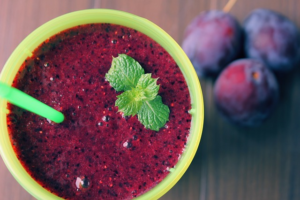 Raspberry Delight Breakfast Smoothie
Breakfast doesn't have to be complicated it just needs to be quick and nutritious.  Smoothies are a great way to get all the nutrients you need on one drink.  This is a satisfying drink that you can make for a snack, breakfast or even enjoy later in the day.
Ingredients
1 cup raspberries (or substitute your favorite fruit)
½ cup low-fat yogurt
½ avocado
1 teaspoon almond oil
1 teaspoon of ground flax seed (ground flax seeds in a coffee grinder)
½ banana
1 cup soy milk or (milk of choice) flax milk, coconut milk, almond milk
4 ice cubes
Instructions
Add all of the ingredients in a good blender
Blend well.
Note:  If the smoothie is too thick add milk until the smoothie reaches the desired consistency.  This is a delicious drink.  Perfect for a quick fix and energy boost.
Paleo Hacks Report
Regardless of what you do in life, it is important to optimize your performance all the time.  This is done by tracking what you eat and drink throughout the day to ensure your caloric intake doesn't exceed the recommended limits.
For this reason, consider staying healthy with Paleo Hacks Diet Plan complete with delicious diet recipes the whole family will enjoy.  Paleo is a well-balanced diet using fresh organic ingredients that will help you lose weight and get the results you want.  For more information and free recipes download the Paleo Hacks Report. Join Today!
Weight Loss Diet Tips
FREE Bonus gift of Diet Weight Loss Tips where you can gain access to detailed strategies for losing weight.  Discover the secrets fitness experts use to totally transform your body with exercises you can perform at home or at the gym.
Get access diet information you can implement in your daily routine creating simple lifestyle changes that can make a huge impact on managing your weight. Click Here to receive your FREE information on how to start losing weight using proven methods that maximize results.
Leave me a comment.  What is your favorite breakfast for weight loss? Share this post with friends!
Stay Healthy
Patricia Lynn
Related Posts
Skin Diet Natural Beauty Starts From The Inside Out