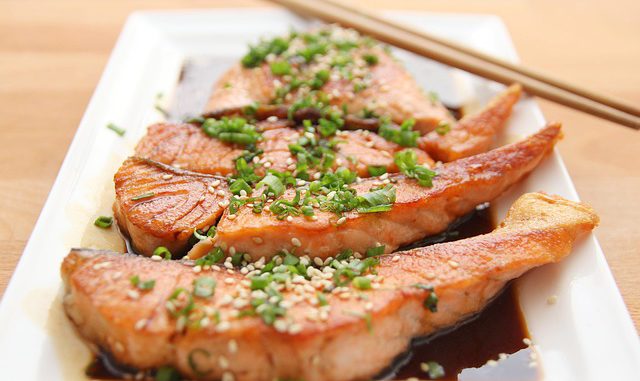 Omega-3 Fatty Acids Help Prevent Disease
Omega-3 fatty acids are also known as polyunsaturated fat or essential fatty acid.  Ther are 3 types of fatty acids in the human physiology including DHA ( docosahexaenoic acid ), EPA ( eicosapentaenoic ) commonly found in marine oils and AlA ( a-linolenic acid ) found in plant oils.  Unsaturated fats can not be synthesized and must be consumed by the body for optimal health.  These essential fatty acids help to prevent blood clots, enable muscles to relax and contract while building cell membranes, sheaths that encase nerves.
Researchers have essentially discovered the importance of eating a healthy diet packed with essential fatty acids to combat a disease and function normally  Thet are responsible for reducing heart disease, hypertension, prevent asthma attacks by reducing inflammation and lowering cholesterol levels as well as reduce various health conditions such as depression. (1.)
Healthy fats include polyunsaturated, monounsaturated, and Omega-3 fatty acids.  These are considered the good fats for a healthy cardiovascular system, your heart. Popular foods that contain these precious oils include nuts, walnuts, flax seed, chia seed, fish, olives, and avocados.
Common sources of this vital resource can be found in phytoplankton, marine algae considered primary resource.  Plant oils containing omega-3 fatty acids can be found in walnuts, edible seeds, flax seeds, chia seeds, clary sage oil, echium oil, sach inch oil, algal oil while sources of aminal omega-3's DHA and EPA fatty acids can be found in fish, salmon, and from chickens who are fed a diet rich in krill oil and squid. Most grocery stores now carry eggs containing Omega-3 sometimes coming from free range chickens.  Find listings on the package.
Dietary supplementation of omega-3 fatty acids does not appear to cause cancer, heart disease or even death. The National Center of Complementary Integrative Health has concluded that there is no supplement that can totally clear symptoms of RA, however, there is preliminary evidence that fish oil may be beneficial warranting further studies.  According to the Physician Health Study found men who ate fish once per month were 43% less likely to develop an ischemic stroke compared to men who ate fish containing fatty acids more often.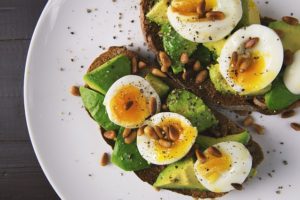 Foods High in Omega-3
Fish, salmon, herring, blue-eyed cod, canned tuna, Sydney rock oysters, sardines
Nuts, walnuts, flax, chia, pumpkin seeds, hemp
eggs- specified omega-3 on the package
soy
Oils- olive oil, flax seed, mustard seed oil, walnut oil, soybean oil
Fortified Omega-3 juice
Fortified Omega-3 pasta
Fortified cereals
Vegetables-kale, Brussel sprouts, spinach, cauliflower, broccoli, avocados,
Baby food- infant formula, infant cereals, jars of baby food.
Other sources- krill oil, fish oil,
Lean red meat, turkey
Milk-regular or fortified
Therapeutic Benefits of Omega-3
The therapeutic benefits of consuming omega-3 fatty acids are undeniable for lowering heart disease and other health complications.  Studies from the 1960's have shown that individuals who consume Medertrain diet including monounsaturated vegetable oils, canola oil, olive oil and plenty of fish have discovered improved health experience.
Lower cholesterol levels with a diet rich in omega-3 fatty acids to lower triglycerides fats in the bloodstream and low-density lipoproteins also considered LDL nasty cholesterol fatty deposits found in the arterial walls.  Risk factors of high triglycerides and LDL are responsible for the high incident of developing cardiovascular disease.
According to NCBI, The US National Libary of Medicine found therapeutic effects of omega-3 fatty acids on chronic kidney disease associated with pruritus which is the relation to essential fatty acid deficiency. (1.)
Omega-3 fatty acids are essential for proper metabolism function the conversion of food to fuel to be utilized as energy.  The three main purposes of the metabolism is the set of life-sustaining chemical transformations within the cells of living organisms, are the process of building blocks for lipids, proteins, nucleic acids and some carbohydrates and the natural elimination of nitrogenous waste.  Omega-3 prevent the blood from developing blood clots that may result in strokes or heart attacks.
Benefits of Omega-3
Reduce Cardiovascular disease, heart disease, and stroke
Treat depression
Increase metabolism
Reduce RA  rheumatoid arthritis
Lubricate joints
Improves memory, cognitive function
Improves vision
Reduce inflammation, stiffness, pain swelling
Prevent asthma
Prevent hypertension-lower blood pressure
Lower triglyceride levels in blood
Reduce Inflammation
Reduce inflammation within the body cell structure with Omega-3 anti-inflammatory properties preventing arterial plaque build up that may result in clogged arteries.  Research suggests that anti-inflammatory activity of long-chain fatty acids of the omega-3 result in positive clinical results.
According to a study conducted by The American College of Rheumatology concluded that there is a modest benefit of consuming a diet rich in omega-3 or taking supplements containing omega-3's  also notes it may take months for effects to be seen and cautious side effects for some individuals who may experience gastrointestinal side effects.  Always use caution when changing your diet or taking a supplement.
According to Harvard University in the United States concluded that individuals who consumed fish at least once per week had a 52% reduced risk of having a heart attack and 43% reduction rate of having a stroke compared to those who eat fish only once per month.  Studies show improvement of RA rheumatoid arthritis to relieve joint discomfort, swelling, and stiffness.
Some individuals have reduced or discontinued taking pain medications by consuming a diet high in omega-3 fatty acids or taking supplements with omega-3's. (1.)
Dose Consuming Fat Make You Gain Weight?
Eating the right fats in the right amount converts into energy at a slower rate compared to converting sugar or carbohydrates which will be stored as fat in the body.   A diet rich in omega-3 fatty acids, monounsaturated fat and polyunsaturated fats actually helps the metabolic process helping you lose weight more effectively.
Fats are necessary for the production of hormones prostaglandins a hormone that regulates many of the bodies natural functions. Prostaglandins are produced by every cell in the body communicating between cells to regulate important functions such as the immune system, fertility, reproduction, and inflammation.  It is essential to have the right balance of fat in your diet for optimal health.  In fact, if you consume the right fats in your diet you will lose more weight while increasing energy and intelligence level.
Those individuals who eat a diet full of carbohydrates, sweets, and sugar may end up with obesity and diabetes as these substances will be stored as fat in the body.
Omega-3 Tips
Eat 3 servings of fish per week- salmon
Consume organic vegetables that contain omega-3's
Balance hormones with fatty acids
Reduce appetite- eliminate processed, sugary, sweet treats and add Healthy fats to diet
Alleviate depression with omega-3 fatty acids
Talk to your doctor about diet and supplements you are considering
Cook with heart healthy oils, olive oil, almond oil, soybean, peanut, safflower, sunflower
Elevate Mood Treat Depression
Evidence suggests that there is a correlation between good mental health and a diet including omega-3 fatty acids.  Treatment for depression or bipolar disease are now including this vital oil as part of a plan for healing.  Numerous studies show that Omega-3 reduce the risks of abnormal heart rhythms responsible for a significant rise heart attacks.
Signicifient benefits were observed due to the supplementation of EPA for treating depression but not for manic depression suggesting a link between individuals who consume omega-3's mood and depression. There is definitive evidence showing EPA supplementation is beneficial in the treatment of depression. (1,)
Studies repeatedly indicate that consuming a diet including omega-3 fatty acids whether in supplements or diet can treat or prevent certain diseases such as heart disease, stroke depression, hypertension, rheumatoid arthritis.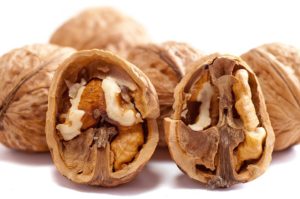 Diet and Omega-3 Fatty Acids
According to the American Heart Association (AHA) has made dietary recommendations for consuming DHA and EPA based on cardiovascular benefits.  Studies suggest individuals who do not have a history of myocardial infarction or coronary heart disease should consume oily fish such as salmon two times per week.  Each serving should be 3 ounces or 85 grams.
Recent trends of food manufacturer is to fortify common foods with omega-3 supplements.  Global food companies have launched omega-3 fortified foods such as eggs, pasta, milk, pizza, yogurt, orange juice, infant formulas, and confections.  According to The Journal of Dailly Science notes a study that found butter made from cows who were grass fed had substantially more ALA (a-linolenic acid) compared to cows who had restricted diets. (1.)
In 2009 a joint study conducted by Clemson University in South Carolina and the USDA researchers found that grass-fed beef was lower in saturated fats known for causing heart disease, beef had a higher moisture content, 42,5% lower total lipid content, higher vitamin levels B, thiamin, riboflavin, Higher Vitamin E (alpha-tocopherol), minerals, potassium, calcium, magnesium.  Grass fed beef has 193% higher total omega-3's  and has 117% higher CLA (cis-9 trans fighter) compared to grain fed beef products.
Increasing the omega-3 content in chicken meat and eggs by enhancing the animals dietary intake with omega-3 enriched grains, flax meal, canola and chia seeds,  These products may cost a bit more when shopping at the grocery store, however, the benefits of adding more omega-3s to your diet can have an enormous impact on your health.
Eggs produced by hens fed a diet of insects, greens have higher levels of omega-3 fatty acids compared to hens that were fed a diet of soybeans or corn products.  Additionally feeding chickens a diet rich in greens and insects fish oils can be added to the diet to increase concentrations of omega-3's. in eggs.  The addition of green algae or seaweed to the diet of chickens boost the dietary content of EPA and DHA of omega-3 fatty acids approved by the FDA for medical claims.  Changing the diet of the chicken including the addition of canola oil and flax meal increase ALA (alpha-linolenic acid) resulting in an increase of heart healthy omega-3 fatty acids DHA.
Omega 6 oils are the group of fatty acids high in arachidonic acids and linoleic acids from foods including sunflower oil, sesame oil, sunflower seeds, safflower oil and corn oil.  Both omega-3 and omega-6 stimulate the formation of prostaglandins.
Prostaglandins are naturally produced by every cell in the body responsible for essential functions such as fertility, reproduction, immunity, inflammation and communicate between cells.  Prostaglandins inhibit the over production of thromboxane a hormone released from blood pallets a substance that promotes blood clotting.  Consequently, because blood tends to clot in narrow arteries usually resulting in a heart attack prostaglandins are vital to good health.
We have become aware of the correlation between the quality of fats in our diet and how it affects our health.  Finding foods rich in omega-3 fatty acids can make a huge difference in your life.  Fish is one of the best sources of omega-3's for the body to function at an optimal level, humans can not get enough of this nutrient and must be obtained from other sources such as lean grass-fed beef or supplements.
The United Staes recommendation of dietary omega-3  is 0.05 ounces 1.6 grams per day for men and 0.03 ounces 1.1 gram for women per day.Government health recommendations vary from country to country according to specified guidelines.  If you enjoy eating fish enough to get 3 to 4 servings per week you can reap the benefits of omega-3 from your diet.  If you do not get enough omega-3 from your diet consider taking supplements fish oil or krill oil to increase your uptake.  Do not take too much as omegas may thin the blood.
Aim for about 0.03-1.1 ounces or 1-2 grams a day.  Because omegas can thin the blood large amounts can cause problems if you are especially for individuals on blood thinning medications or if you are pregnant women.  Taking supplements for various conditions in high amounts has been proven to be beneficial.  Health organizations agree on consuming omega-3 supplements containing DHA, EPA 250-500mg sufficient for adults for optimal health benefits.
Consuming more omega-3 fatty acids has never been easier.  Talk to your physician before changing your diet or taking supplements to see what is right for you.
Share this post with friends.
Cheers!
Patricia Lynn
Images Courtesy of FoodieFactor , 1643606, Wow_Pho at Pixbay.com